Documents and
Reference Material
The Utility Mark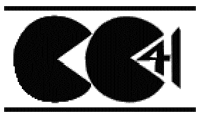 The Utility Mark Label
The Utility Clothing Scheme (and later utility furniture), was a rationing scheme introduced in the United Kingdom by the British Government during World War II. In response to the shortage of clothing materials and labour due to the requirements of the war effort, the Board of Trade sponsored the creation of ranges of "utility clothing" and furniture meeting tight specifications regarding the amount of material and labour allowed to be used in their construction - these articles could be identified by presence of the CC41 mark.

To purchase utility clothing it was necessary to use clothing coupons. Anyone getting married or setting up home had to save, beg and borrow points to buy clothes and bedding. This continued post the end of WWII until it was finally withdrawn in 1952.
What a Star
The famous white star found on some WW2 vehicles is often mistaken for being an American symbol. Hollywood has done much to associate the star with only American units, when in fact, it was a sign given to all allied troops especially in the build-up to D Day.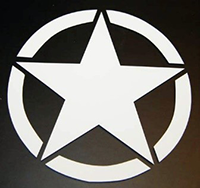 The White Star Symbol
Bus Stop
London's famous red buses have more of a War connection that you might think. During the war London Transport was heavily involved in war work, including adapting vehicles for D-Day.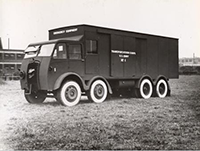 View of a US Army Lorry built at the L.T. Acton Underground Works during the Second World War.

For example the L.T. works in Aldenham were turned over to the London Aircraft Production organisation and used to assemble Halifax aircraft.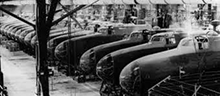 Aircraft being assembled at Aldenham

The capital's famous Routemaster buses used a lot of engineering experience gained in the construction of Halifax Bombers (for example, the use of hydraulic braking). After the war, the Aldenham works became famous as the overhaul building where buses were refurbished. Sadly, the Aldenham works closed in 1986.
Document
Library
Although The members of the
Essex HMVA
have been collecting documents relating to wartime technology for a number of years, it is only since the formation of the new charity, that we have begun a process to make these reference documents available online.
We're working steadily to categorise and upload reference material, however we encourage you to
contact us
in the first instance to see if we can help
Use the left and right arrows below to locate the document you're interested in